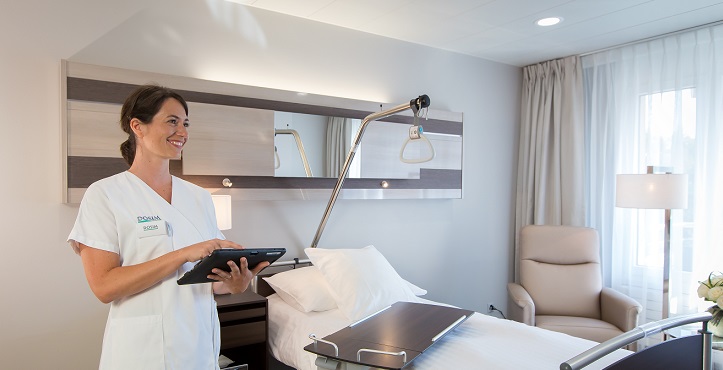 In the healthcare sector, requirements in terms of flexibility, quality and professionalism are constantly on the increase for non-medical support functions.
Outsourcing cleaning and bio-cleaning services is proving to be a remarkable lever for the streamlining of management and quality of services, offering greater flexibility and cost control.
To achieve these results, DOSIM Healthcare offers its customers a tool that enables real-time room management among other things. The application used by the DOSIM Healthcare teams allows immediate access to protocols drawn up according to the type of room to be processed. Whether cleaning a room following a patient's discharge or during their stay, or even with additional measures, each staff member has all the information necessary to carry out the requested service.
Each type of user – the customer, the Facility Manager or Housekeeper – is informed in real time when bio-cleaning has been completed, optimising room rotation and the admission of new patients.
The application also allows users to immediately inform the technical team of any irregular situations or technical incidents observed. It provides access to reports of various services.
In addition to ongoing training sessions for the teams in place, the application also offers tools to assess knowledge and the teams' training needs. This digital resource therefore supports DOSIM Healthcare at all levels.
Increasing customer satisfaction and improving the quality of our services to ensure a long-term collaboration with our customers is the company's mantra.
Return to news