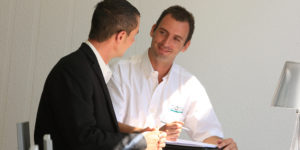 Since 1st July this year, the entire team of the Zug DOSIM branch moved to new premises. All our staff, headed by Rolf Schärli, are on hand to address your Facility Services requests.
You have diversified needs, DOSIM offers you diversified services.
To contact them:
Steinhauserstrasse 51
6300 Zug
Tel: +41 729 40 40
Email: zug@dosim.ch
Don't wait any longer! A need you wish to ask us about: call our DOSIM team in Zug.
Return to news