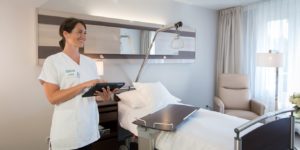 How can we ensure we provide the most effective and efficient care possible? Through key expertise which enables our customers to focus on their core business area.
Business experts ensuring results which meet customer service requirements, speaking the same language for immediate tailored responses: the method is proven and its sole aim is DOSIM Healthcare customer satisfaction.
Thanks to standardized processes, constantly-monitored operational organization and budget control, DOSIM Healthcare services have gained renown. This on-the-field tried and tested methodology, validated by our business experts, is built on solid foundations:
two biocleaning operational protocols meeting health standards and ensuring patient safety whilst offering a high level of comfort,
daily computerized tracking of our teams' services,
systematized quality control,
teams managed by a head housekeeper and provided with continuous training, which includes consideration for customer activity (peak period management) and handling absences by training a full replacement team,
and, finally, continuous research for business-focused innovations on both technique and organization-solution levels.
Outsourcing like this, for any healthcare establishment, requires strong partnerships between the customer and DOSIM Healthcare to work efficiently, to ensure:
that requests may be perfectly understood and addressed,
that quality or health issues do not exist,
that budget for outsourced services is perfectly controlled.
As studies show, this management approach offers real optimization and cost control.
Finally, experts' attentiveness, flexibility and their constant quest for proactive solutions have led DOSIM Healthcare to become acknowledged for its know-how and its partnerships with its customers are inherent to the success of the overall offer quality the latter provides.
DOSIM's team is driven by high standards and absolute patient comfort is its priority.
Return to news